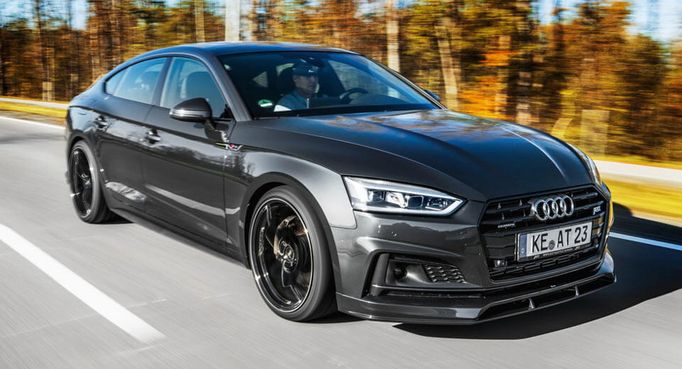 The book "Audi A5 Manual" presents technical specifications, maintenance operations, the main vehicle malfunctions and how to fix them. Particular attention is paid to repairs:
- engine;
- engine control systems;
- transmissions;
- steering control;
- body;
- electrical equipment.
The sections of the manual include operating instructions for the Audi A5 car, the moments installed on the main threaded bearings, rolling bearings repaired on cars and the electrical equipment (wiring diagram) of the Audi A5.
Audi A5 Maintenance (Edition 12.2017) Download
Audi A5 Maintenance (Edition 11.2015) Download
Audi A5 Technical data for diesel engines Download
Audi A5 Technical data for petrol engines Download
Audi A5 TDI injection and glow plug system (4-cyl. 2.0l. 4-valve CR) Download
Audi A5 TDI injection and glow plug system (4-cyl. 2.0l. 4-valve common rail, gen. II) Download
Audi A5 TDI injection and glow plug system (6-cyl. 2.7 ltr., 3.0 ltr. 4-valve common rail) Download
Audi A5 TDI injection and glow plug system (6-cyl. 3.0 ltr. 4-valve common rail, gen. II) Download
Audi A5 4-cyl. TDI engine (2.0l. 4-valve common rail) CAGA CAGB CAGC CAHA CAHB CMEA Download
Audi A5 4-cyl.TDI engine, 2.0l. 4-valve common rail (EA288 Gen. I) CNHA CNHC CSUA CSUB Download
Audi A5 4-cyl. direct injection engine (1.8l, 2.0l. 4-valve TFSI – gen. III) Download
Audi A5 4-cyl. direct injection engine (1.8l, 2.0l. 4-valve TFSI – gen. II) CABB CABA CABD CAEA.. Download
Audi A5 4-cyl. TDI engine (2.0l. 4-valve common rail -gen. II) CJCB CGLC CGLD CJCA CMFA CJCC. Download
Audi A5 6-cyl. TDI engine (2.7l.; 3.0l. 4-valve common rail) CAMA CAPA CAMB CCWA Download
Audi A5 6-cyl. TDI engine (3.0l. 4-valve common rail – gen. II) CDUC CLAB CKVB CKVC CKVD Download
Audi A5 6-cyl. direct injection engine with supercharger (3.0 ltr. 4-valve TFSI) Download
Audi A5 6-cyl. direct injection engine with supercharger (3.0l. 4-valve TFSI, EA837evo) CREC CRED CTDA Download
Audi A5 6-cyl. direct petrol injection engine (3.2l. 4-valve) CALA Download
Audi A5 8-cyl. direct injection engine (4.2l. 4-valve, RS4, RS5) CFSA Download
Audi A5 8-cyl. direct injection engine (4.2l. 4-valve) CAUA Download
Audi A5 Direct injection and ignition system (4-cyl. 1.8l., 2.0l. 4-valve turbo – gen. III) CJEB Download
Audi A5 Direct petrol injection and ignition system (4-cyl. 1.8l. 4-valve turbo with timing chain) Download
Audi A5 Direct petrol injection and ignition system (4-cyl. 1.8l. 4-valve turbo with timing chain) CABD Download
Audi A5 Direct petrol injection and ignition system (4-cyl. 2.0l. 4-valve turbo with timing chain) CDNB CAEB Download
Audi A5 Direct petrol injection and ignition system (8-cyl. 4.2l. 4-valve)  CAUA Download
Audi A5 Direct petrol injection and ignition system (8-cyl. 4.2l. 4-valve), RS4, RS5 CFSA Download
Audi A5 Simos direct petrol injection and ignition system (6-cyl. 3.0 ltr. TFSI 4-valve) Download
Audi A5 Simos direct petrol injection and ignition system (6-cyl. 3.2l. 4-valve) CALA Download
Audi A5 Servicing 4-cylinder engine, 1.8 ltr., 2.0 ltr. 4-valve TFSI (EA 888, Gen. II) Download
Audi A5 Servicing 4-cylinder engine, 2.0 ltr. 4-valve TFSI (EA888, Gen. III) Download
Audi A5 Fuel supply system, diesel engines Download
Audi A5 Fuel supply system, petrol engines Download
Audi A5 Servicing 6-speed manual gearbox 0B1, front-wheel drive Download
Audi A5 Servicing 6-speed manual gearbox 0B2, four-wheel drive Download
Audi A5 Servicing 6-speed manual gearbox 0B3, front-wheel drive Download
Audi A5 Servicing 6-speed manual gearbox 0B4, four-wheel drive Download
Audi A5 Servicing 7-speed dual clutch gearbox 0B5 (S tronic) Download
Audi A5 Servicing 8-speed automatic gearbox Download
Audi A5 Servicing multitronic 0AW Download
Audi A5 6-speed manual gearbox 0B1, front-wheel drive Download
Audi A5 6-speed manual gearbox 0B2, four-wheel drive Download
Audi A5 6-speed manual gearbox 0B3, front-wheel drive Download
Audi A5 6-speed manual gearbox 0B4, four-wheel drive Download
Audi A5 7-speed dual clutch gearbox 0B5 (S tronic) Download
Audi A5 8-speed automatic gearbox 0BK, four-wheel drive Download
Audi A5 Automatic gearbox 0B6, four-wheel drive Download
Audi A5 Multitronic 0AW, front-wheel drive Download
Audi A5 Rear final drive 0BC, 0BD, 0BE, 0BF Download
Audi A5 Rear final drive 0BD Download
Audi A5 Rear final drive 0BF and 0BE – sport differential Download
Audi A5 Running gear, axles, steering Download
Audi A5 Running gear, front-wheel drive and four-wheel drive Download
Audi A5 Brake system Download
Audi A5 Air conditioner with refrigerant R134a Download
Audi A5 Air conditioners with refrigerant R1234yf – General information Download
Audi A5 Auxiliary heater, supplementary heater Download
Audi A5 Heating, air conditioning Download
Audi A5 Communication Download
Audi A5 System description – Extended service interval Download
Audi A5 System description – Exterior mirrors Download
Audi A5 System description – Running gear, steering wheel Download
Audi A5 System description – Windows and doors Download
Audi A5 System description – adaptive cruise control Download
Audi A5 System description – entry and start authorisation Download
Audi A5 System description – exterior lights Download
Audi A5 System description – infotainment and audio output (MOST) Download
Audi A5 System description – infotainment and navigation system Download
Audi A5 System description – interior lights Download
Audi A5 System description – lane change assist (Audi side assist) Download
Audi A5 System description – lane departure warning (Audi lane assist) Download
Audi A5 System description – wiper and washer systems Download
Audi A5 Specifications for testing the braking force Download
Audi A5 Fitting instructions: Filling roof side member with foam Download
Audi A5 Fitting instructions: radio communication systems Download
Audi A5 Trailer Operation Guide Download
Audi A5 Wheel/Tyre Guide Download
Audi A5 Wheels and tyres Download
Audi A5 General Body Repairs Download
Audi A5 Body Repairs Download
Audi A5 General body repairs, exterior Download
Audi A5 General body repairs, interior Download
Audi A5 Electrical system; General information Download
Audi A5 Electrical system Download
Audi A5 EWD (From June 2007) Download
Audi A5 Maintenance Download
Audi A5 Technical data for engines Download
Audi A5 4-cyl.direct injection engine (2.0l. 4-valve TFSI, EA888 Gen. III) CYMC CYRB CYRC Download
Audi A5 4-cyl. direct injection engine (2.0l. 4-valve TFSI, EA888 Gen. III, B cycle) CVKB, DBPA Download
Audi A5 4-cyl. TDI engine, 2.0l. 4-valve common rail (EA288 EVO) DEZE DEZB Download
Audi A5 4-cyl. TDI engine, 2.0l. 4-valve CR (EA288 Gen. I) DETA DEUA DEUB DESA CZHA DEUC DETB Download
Audi A5 4-cyl. direct injection engine (1.4 ltr. 4-valve TFSI EA211) CVNA Download
Audi A5 6-cyl. TDI engine, 3.0l. 4-valve common rail (EA897 – Gen. II) DCPC DCPE Download
Audi A5 6-cyl. TDI engine, 3.0l. 4-valve common rail (EA897 Gen. I) CRTC CSWB Download
Audi A5 6-cyl. TDI engine, 3.0l. 4-valve common rail (EA897 – Gen. II, S4, S5) DEWA DEWB Download
Audi A5 6-cyl. direct injection engine (2.9l., 3.0l. 4-valve TFSI EA839) CWGD DECA Download
Audi A5 Servicing 4-cylinder engine, 2.0 ltr. 4-valve TFSI (EA888, Gen. III) Download
Audi A5 Servicing 4-cylinder engine, 2.0 ltr. 4-valve TFSI (EA888, Gen. III B cycle) Download
Audi A5 Servicing 4-cylinder TDI engine, common rail (EA 288 Gen. I) Download
Audi A5 Servicing 4-cylinder TDI engine, common rail (EA 288 EVO) Download
Audi A5 Servicing 6-cylinder TDI engine, common rail (EA 897 Gen. I) Download
Audi A5 Servicing 6-cylinder TDI engine, common rail (EA 897 Gen. II) Download
Audi A5 Servicing 6-cylinder engine, 2.9 ltr., 3.0 ltr. 4-valve TFSI EA 839 Download
Audi A5 Natural gas engines – General information (CPWA CVLA DHFA) Download
Audi A5 Fuel supply system Download
Audi A5 Fuel supply system – g-tron (CVLA) Download
Audi A5 6-speed manual gearbox 0CS, 0DJ, 0CX Download
Audi A5 7-speed dual clutch gearbox 0CJ, 0CK, 0CL, 0DN, 0DP Download
Audi A5 8-speed automatic gearbox 0D Download
Audi A5 Servicing 6-speed manual gearbox 0CS, 0DJ, 0CX Download
Audi A5 Servicing 7-speed dual clutch gearbox 0CJ, 0CL, 0CK, 0DN, 0DP, 0HL Download
Audi A5 Servicing 8-speed automatic gearbox Download
Audi A5 Rear final drive 0D2, 0D3, 0DB, 0B0, 0BX, 0DG, 0G2, 09R Download
Audi A5 Running gear, axles, steering Download
Audi A5 Wheel/Tyre Guide Download
Audi A5 Brake system Download
Audi A5 Air conditioners with refrigerant R1234yf – General information Download
Audi A5 Air conditioner with refrigerant R134a Download
Audi A5 Auxiliary/supplementary heater Download
Audi A5 Heating, air conditioning Download
Audi A5 Communication Download
Audi A5 Fitting instructions: radio communication systems Download
Audi A5 General Body Repairs Download
Audi A5 General body repairs, exterior Download
Audi A5 General body repairs, interior Download
Audi A5 Body Repairs (A5/Sportback) Download
Audi A5 Body Repairs (Cabriolet) Download
Audi A5 Electrical system; General information Download
Audi A5 Electrical system Download
Audi A5 EWD (From July 2016) Download