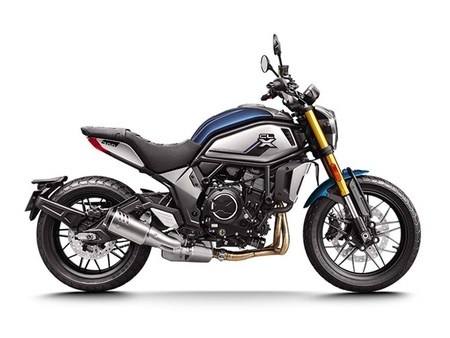 ---
CFmoto - 150T - E-Jewel - Maintenance - Manual PDF Download
CFmoto CF150-A Service Manual PDF Download
CFmoto Terracross Owner's Manual Download
CF625-3 CF500-6 CF625-6 4x4
CFmoto X5 CF500-5 CF500-5A Service Manual PDF Download
CFmoto Terralander 800 CF800-2 Service Manual Download
CFmoto Force CF1000 US-2Service Manual Download
CF Moto CF250T-3 v3 Service Manual Download
CF Moto CF625-B CF625-C Service Manual Download
CFMoto 196S-C Parts Catalog.xls Download
CFMoto 250T-5 User s Manul.pdf Download
CFMoto 500 - X5 (CF500-5A) Technical Service Manual.pdf Download
CFMoto ATV CF500 Owner's Manual.pdf Download
CFMoto ATV CF500-2(A) Owner's Manual 2008.pdf Download
CFMoto ATV CF625-X6 EFI Owner's Manual.pdf Download
CFMoto ATV CFMoto CF800-2 Service Manual.pdf Download
CFMoto ATV HX500-S, HX500-L. Owner's Manual 2009.pdf Download
CFMoto ATV JourneyMan Gladiator X8 Owner's Manual.pdf Download
CFMoto ATV Terralander CF800-2 Owner's Manual.pdf Download
CFMoto ATV,UTV Accessoires Catalogue.pdf Download
CFMoto CF 500cc Service Manual.pdf Download
CFMoto CF125T-19/ CF150T Service Repair Manual.pdf Download
CFMoto CF125T-21/ CF150T-5/ CF150T-5A E-Charm Owner's Manual.pdf Download
CFMoto CF150-2C V-Night Owner's Manual.pdf Download
CFMoto CF150-A Service Manual.pdf Download
CFMoto CF150-A Service Repair Manual.pdf Download
CFMoto CF150-C Owner's Manual.rar Download
CFMoto CF150T-5/ CF150T-5A/ CF125T-21 E-Charm Owner's Manual.pdf Download
CFMoto CF250T-3 (V3) Owner's Manual.pdf Download
CFMoto CF250T-3 Service Repair Manual.pdf Download
CFMoto CF250T-5 (V5) Owner's Manual.pdf Download
CFMoto CF250T-5(V5) Service Manual.pdf Download
CFMoto CF250T-6A JET-MAX Owner's Manual.rar Download
CFMoto CF500/ 500-A/ D/ E Parts Catalog.rar Download
CFMoto Cf500/ Cf500 A Service Manual.pdf Download
CFMoto CF500/ CF500-A Service Manual 2006.pdf Download
CFMoto CF500-2/ 2A Parts Catalog.xlsx Download
CFMoto CF500-3 Service Manual.pdf Download
CFMoto CF500-5B/ CF500-5C Service Manual 2009.rar Download
CFMoto CF500-5C/ CF625-C Owner's Manual.pdf Download
CFMoto CF500-6/ CF625-3/ CF625-6 Terracross Owner's Manual.pdf Download
CFMoto CF500-A Owner's Manual.pdf Download
CFMoto CF625-3 Owner's Manual.pdf Download
CFMoto CF625-3/ CF625-6/ CF500-6 Terracross Owner's Manual.pdf Download
CFMoto CF625-B/ CF500-5B Owner's Manual.pdf Download
CFMoto CF625-C/ CF500-5C Owner's Manual.pdf Download
CFMoto CF650NK Owner's Manual.pdf Download
CFMoto CF650NK Service Manual.pdf Download
CFMoto CF800 2 Service Manual.pdf Download
CFMoto CF800 EFI U8 Parts Catalog.rar Download
CFMoto Engine for CF250T Service Repair Manual.pdf Download
CFMoto Goes 520 Owner's Manual.pdf Download
CFMoto JournayMan Gladiator Z6 Owner's Manual.pdf Download
CFMoto Mikuni BSR36-89 Service Repair Manual.pdf Download
CFMoto Moto CF150-A, CF150-C Owner's Manual.pdf Download
CFMoto Moto CF650NK. Service Manual.pdf Download
CFMoto SSV 625-Z6 Owner's Manual.pdf Download
CFMoto Wiring Diagrams.rar Download
Consider two rugged ATVs with motorcycle seating and controls. This is a mid-sized CFMOTO 400L EPS, a low-cost touring and light off-road model, which, however, already has power steering as standard. And the CFORCE 1000 EPS is the brand's most powerful ATV with a "litre" engine.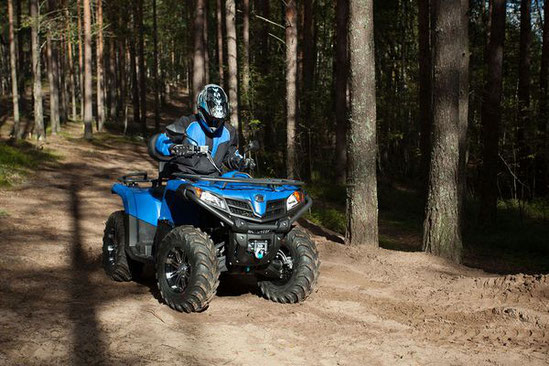 If the budget is limited, one of the best options is CFORCE 400L EPS. This is the cheapest CFMOTO model with electric power steering (EPS) as standard. It reduces the load on the driver's hands, makes it easy to turn the wheels even in the mud and dampens shocks to the steering wheel when off-road. Also standard equipment includes a winch, which allows you to single-handedly pull out a stuck ATV and use additional equipment - for example, a snow plow for clearing snow.
31 hp injection engine only 1 hp inferior to CFMOTO 500 cc carburetor units, while providing fuel economy and does not require adjustments to the fuel supply system.
Transmission on an ATV with a connected all-wheel drive and a reduction gear, front differential lock is forced. Tires 25-inch with mud tread. Clearance - 250 mm. This provides high throughput. Luggage areas are provided for the transportation of goods in front and behind.
Comfort when driving on rough roads is provided by independent suspension with 180 mm of travel. The hydraulic brake system is responsible for safety.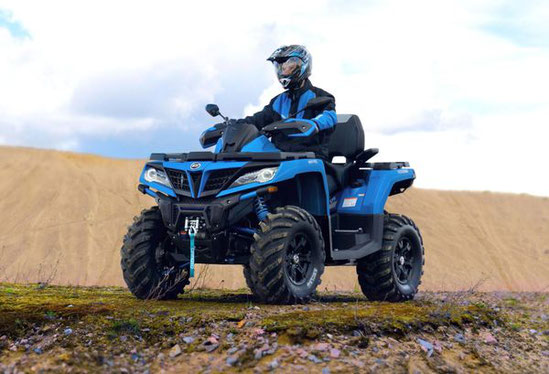 If you're looking for a reliable ATV that can handle the toughest off-road terrain, look no further than the CFORCE 1000 EPS. "Liter" injection engine develops 75 hp. and allows you to accelerate to 108 km / h. Its off-road capabilities are revealed by a transmission with 2WD / 4WD modes, a reduction gear and the possibility of a forced front differential lock. The reliability of the ATV is increased by new gearboxes. Patency is increased by a clearance of 300 mm and off-road 27-inch tires.
Power steering (EPS), a metal tow ball and an electric winch are included in the basic package. There are two luggage racks for transporting goods: front load capacity - 20 kg; back - 40 kg. The seat on the ATV is multi-level. The passenger section is removable, equipped with handles and a backrest.
Safety when driving on steep slopes and in other dangerous situations is provided by a 4-caliper dual-circuit brake system. Suspensions allow you to move comfortably even on large irregularities: the travel of the front independent is 205 mm, the rear pendulum is 195 mm. The front gas-oil shock absorbers with progressive springs have compression and rebound damping adjustments. For greater mileage without refueling, the fuel tank on the model has been increased to 30 liters.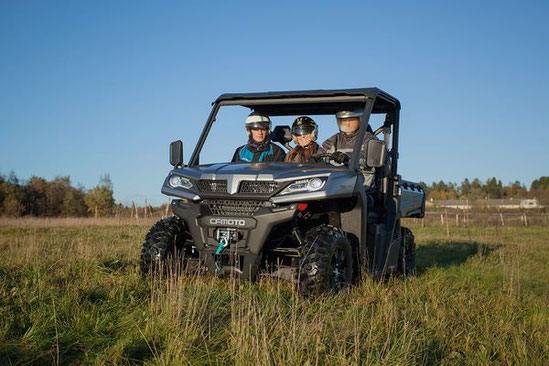 This ATV is great for hunters, anglers, farmers, private homeowners and campers. The tipper body has a load capacity of 350 kg and is equipped with a tailgate. The salon accommodates three people, they can be fastened with three-point seat belts. All seats are heated. From precipitation and dirt flying from under the wheels, full-size doors, a high windshield with a wiper and a roof protect.
Sufficient traction for towing heavy loads and off-road driving is provided by a 72 hp liter engine. When passing through difficult muddy areas, the driver can include four-wheel drive, downshift and differential lock. Also, 27-inch STAG tires and a ground clearance of 265 mm increase the cross-country ability. The basic package includes a towbar, winch and electric power steering.
The maximum speed of the ATV is 95 km/h. In order to avoid strong shaking in the cabin and rolls when cornering during fast movement, the ATV is equipped with independent suspensions: front travel - 180 mm, rear travel - 190 mm. The hydraulic dual-circuit braking system effectively slows down the ATV even when carrying a load or towing.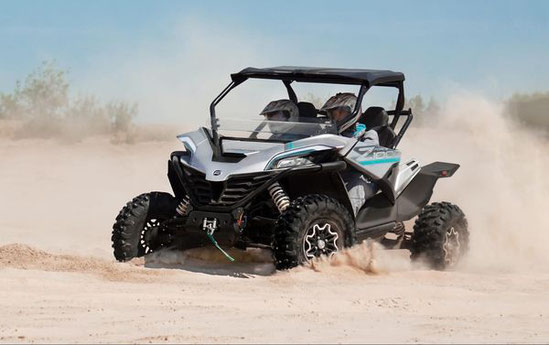 New for 2020. This model is primarily designed for extreme driving. The 962.6 cm³ V-twin engine develops 80 hp at 7500 rpm. Powerful motor reach speeds of 120 km / h and overcome difficult off-road routes. Instantaneous acceleration is provided by a newly designed Canadian CVTech variator and an electronic accelerator. To increase the cross-country ability, you can switch from 2WD to 4WD, lock the differential and engage a downshift. Also, off-road capabilities of the ATV are increased by 29-inch STAG tires and a ground clearance of 340 mm.
For better handling and stability at high speed, the model has a wide track, an extended wheelbase (2285 mm) and independent suspensions with 290 mm of travel at the front and 395 mm at the rear. Gas-oil shock absorbers have compression and rebound adjustments. Effective deceleration is provided by a hydraulic dual-circuit braking system with four wheel brake discs.
For the safety of the driver and passenger, the model has five-point seat belts in the cabin and a frame made of chromium-molybdenum steel. The plastic roof and windshield protect against precipitation and dirt. In the basic configuration there is an electric power steering (EPS), a towbar and a winch. Up to 100 kg can be loaded into the rear luggage area.